Matrix Contest
So we've all seen The Matrix Trilogy (well, at least the first one), and we all know that when you get pulled out of the matrix, you become your 'real self'. But, when you plug back in, you still obtain your 'Residual Self Image'. The Aim of this contest is to doll a 'real world' character next to their 'residual self image'.
Examples: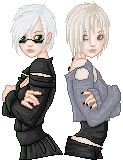 Name: (what you want on your award if you place)
Site: (if you have one. If you want to be credited to an email address, or to a forum membership, put that here instead)
Base Credits: (Where you got the base from. I won't accept the entry if this section is blank)
As far as awards go, i've decided to step up!
1ST - Custom doll!!! + Graphic Award
2ND - Graphic Award and Custom Prep/Custom pixel
3RD - Graphic Award and Prep/something cute/something hilarious
And various other awards for people i deem worthy.
Email all entries to "the_dull_mongoose@hotmail.com" with something relating to the matrix as the subject.
I'll close this in a few weeks time, so no rush. Have fun!
Entries